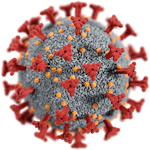 In the first year, our school partnership was really strong dominated by the CoViD-19 pandemic. The high numbers of incidences throughout Europe were leading to many lockdowns in schools and home schooling at our partner schools. Due to high infection risks travelling activities were completely stopped by school administration and so the planned project meetings could not be realized.
The web-based conferences established as an alternative to the planned meetings did not work out the way we had been expected to because the periods of lock down in the different partner countries again and again made it impossible for students to get back to working on the product. Apart from that, schools had to cope with the most relevant problems concerning their regular curricula and organisation of lessons. All that led to the fact that developing the project more and more was shifting into the background of the daily work in school.
Repeated travel warnings and the presence of new mutations of the virus made the planning of further project meetings impossible until early autumn 2021. In the aftermath of having developed and been able to provide enough vaccine we today see that more and more activities are again possible. In conclusion we are quite confident to be able to develop and proceed in project work and to follow on the different project activities as outlined in the application.
Nevertheless, we are very happy to be able to meet in real for the first time now in November 2021 in Trondheim (Norway), where we can discuss, evaluate and agree on the further structure and procedure how to go on in a first kick-off meeting. Despite all the delays and difficulties, we are still very confident to be able to work proper on all our tasks in the coming months.
Foto by Daniel Roberts at Pixabay