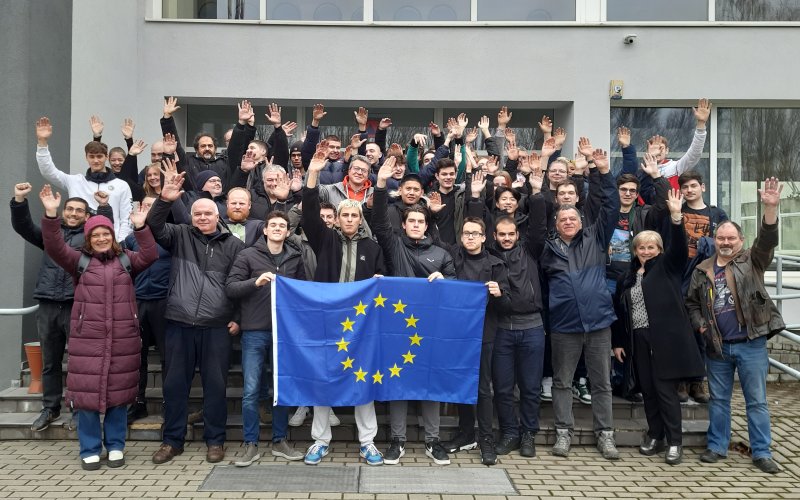 On Friday, 13th January 2023, the Irish delegation had an early start. Each member of our party met up outside Terminal 2 in Dublin Airport at 3:30 am. We checked in at 4:30 am and we departed Dublin at 6:30 am. Our flight took 2 hours and 45 minutes and we arrived at Kaunas Airport at 11:30 am Lithuanian time.
After grabbing our luggage, we took the public bus that brings us to the center of Kaunas where our hotel called Best Western Santakos Hotel was located at. The bus journey from the airport to the hotel was tiring therefore we all got settled in our hotel room and everyone had a nap.
After a few hours of resting, we got up and got ready for our welcome dinner where all the parties from Germany, Lithuania, Norway, Croatia, Italy and Ireland were gathered. The hotel chefs prepared a beautiful and delicious two course meal consisting of a main course and a dessert. For the main course we were given a beautifully roasted duck which melted in your tongue, and this was accompanied by a crispy yet so fluffy roast potatoes and some creamy vegetables. For dessert we enjoyed a light brownie with a side of sweet vanilla ice cream. After dinner we all went back up to our hotel rooms and rested for an early start of our project the next day.
Saturday was the project's welcome and initial day. We all had breakfast in the hotel at 8 am and at 9 am we met outside the hotel. We were given our travel card which we use to pay for public transport all over Kaunas.