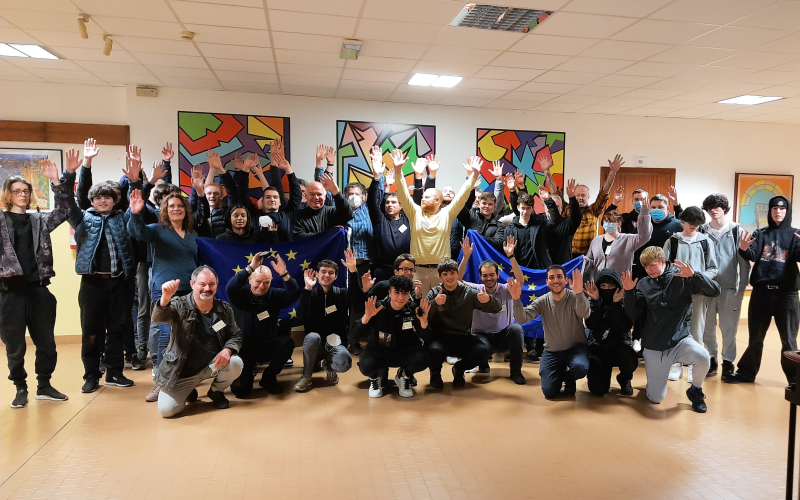 On the 16th of February 2022, we arrived in Italy and were welcomed with a dinner at the Pizzeria La Lucciola. After not seeing the other students for so long, getting to re-meet some and meet some others for the first time, it was nice to sit together and have a clam evening before the excitement of the project really started. Some delegations brought the same members as before in Norway, others switched out part of or their entire team of students.
The first actual day in Ivrea started with a warm welcome to ISS Olivetti with a presentation about the Confindustria as well as the city and surrounding area. Part of that Presentation included the Aosta Valley which we would visit the next day. Also the Team from Croatia presented us with a working prototype using an ESP32 which works great and will be fun to use in the actual tran carts. After that eventful morning and a delicious lunch at the school cafeteria we finally got back into working on our tasks for the project. The rest of the work day was spent working on new ideas and developing ones that we already had in Norway. We concluded the day with a school tour which the Italian students guided us on. We saw different Computer science and graphic/design labs. At the end we had some time to get individual dinners and maybe check out the town a little by ourselves.
The next day was split into a half day of work and a half day of exploring. The morning was set off with a work phase of Workline C as well as Workline D, both of these were being worked on for the first time which gave a nice new perspective of what else goes into such a project. Next to the obvious parts of a project titled "digital revolution" like programming and coding, we now also talked about public relations, the project corner and web contents. Working on these workalikes gave a welcome break from all the technical talk that was all that was spoken about up to that point.